About Invisalign
Align Your Smile With Invisalign
Like many people living around Tallahassee, you may want to straighten your smile, but you don't love the thought of sporting traditional metal braces to straighten your smile. As the only Diamond Provider of Invisalign in Tallahassee, our excellent results are backed by hundreds of cases of successful smiles!
With clear aligners from Invisalign, teens, adults, and children can reach a straight smile without anyone noticing the treatment!
First Step to a Clear Smile
Unlike traditional braces, these comfortable, clear aligners don't rely on a system of brackets and wires. Invisalign can give you the same stunning results as braces without any food restrictions or changes to your brushing routine.
We provide treatment with clear aligners for patients of all ages around Tallahassee, including children, teens, and adults. Come in for a free consultation exam — a simple and time-efficient first step!
How Invisalign Works
Invisalign takes a modern approach to straightening teeth. It uses a custom-made series of aligners created specifically for you. These aligners are made of smooth, comfortable, and virtually invisible plastic that you wear over your teeth.
Wearing the aligners will gently move your teeth into place little by little, based on the exact movements Dr. Michael or Dr. Taylor plans for you.
There are no metal brackets to attach or wires to tighten. You just pop in a new set of aligners about every two weeks until your treatment is complete!
This nearly-invisible option to straighten your teeth is truly changing the orthodontic treatment all around Tallahassee. As Diamond Providers of Invisalign, Dr. Michael and Dr. Taylor have a lot of experience treating patients with Invisalign, and we're excited to offer this technology to our patients.
Inside Invisalign
It's important to wear your aligners for at least 22 hours each day, as recommended by Dr. Michael and Dr. Taylor, so they can do their job of straightening your teeth. This allows you to get the most out of your treatment for the best possible smile.
Redemption Orthodontics patients who choose Invisalign can remove their aligners for special occasions. Like with traditional braces, you'll generally need to wear a retainer after Invisalign treatment to help your teeth stay in place and maintain your new smile.
While popular, Invisalign is often used for more straightforward treatments. Dr. Michael and Dr. Taylor may recommend other options for patients with more complex alignment and bite issues or those with bridgework. Dr. Michael or Dr. Taylor can advise you about the best treatment options for you.
Request your free consultation with Dr. Michael and Dr. Taylor at our Tallahassee office to learn if Invisalign is right for you!
Invisalign vs. Braces
Invisalign uses smooth plastic aligners to straighten your teeth instead of metal components that can irritate your mouth. Invisalign also has the advantage of allowing patients to have more freedom in their diet since aligners are removable. This means patients don't have to be as careful watching what they eat for fear of affecting their treatment progress.
In fact, the aligners must be removed for eating and drinking anything other than water. You need to make sure you're willing to do that before you decide on Invisalign clear braces.
Remember, you'll need to clean your teeth before putting the aligners back on after each time you eat. This helps prevent staining or any discoloration with your aligners.
Brushing and flossing are a breeze with Invisalign. Since you don't have to work around any brackets or wires, you can maintain your traditional brushing habits as your work your way to a brand-new smile!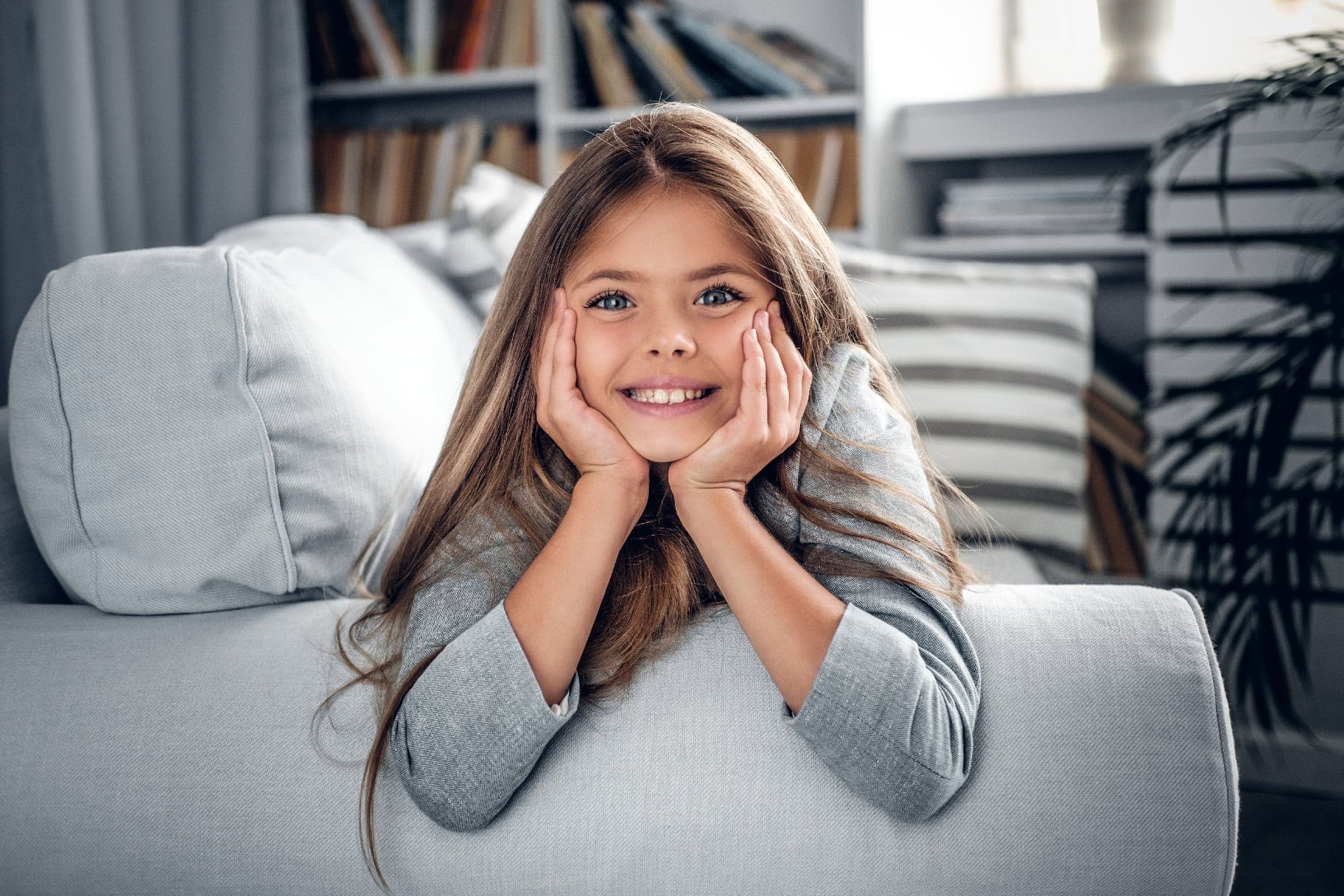 Invisalign For Kids
Early Treatment With Invisalign For Kids
At Redemption Orthodontics, we understand that orthodontic treatment is important to a child's healthy development. That's why we offer Invisalign for kids in Tallahassee, FL — a revolutionary solution for straightening teeth and aligning the bite in children and teens.
When it comes to orthodontic treatment for our children, Invisalign offers a great option that can be started early on. Invisalign provides the same great results as traditional braces but is more discreet. Early intervention with Invisalign allows kids to correct any possible problems before they become bigger issues, helping them get a jump start on having the perfect smile and then maintaining it with proper oral hygiene habits over time.
Is My Child A Candidate For Invisalign?
It is generally recommended for children to see an orthodontist around the age of seven. This is because, at that age, most children have already begun to lose their primary (baby) teeth and are beginning to develop adult teeth. With this development, an orthodontist can see how your child's teeth develop.
Redemption Orthodontics is the place to go when you begin seeking orthodontic care for your child. Drs. Michael and Taylor Vracar are skilled in providing comprehensive orthodontic care for children. We will work with you and your child to assess their needs and determine the right treatment plan, including whether Invisalign is the best option for them.
Here are some of the factors we will consider when deciding if your child is a candidate for Invisalign include:
The Condition Of Their Teeth — If your child has severe overcrowding in their mouth, that may require traditional braces or other orthodontic treatments.
Responsibility — Children must be aware of the importance of wearing their aligners for the recommended amount of time and being careful with them.
Your Child's Active Lifestyle — If your child plays contact sports or is involved in other activities, that may put their aligners at risk.
At Redemption Orthodontics, we understand that every child is different and requires individualized care. We are committed to providing your child with the best orthodontic treatment possible through Invisalign or traditional braces. To find out if Invisalign could be an option for your child, please contact us today to request a free consultation.
How Can Kids Benefit From Invisalign?
Invisalign is a great option for children and teens who want to improve their oral health while maintaining a natural appearance. With Invisalign, your child can have the straight teeth they desire without the hassle of traditional braces.
Discreet Appearance
The clear aligners are virtually invisible, so no one can tell your child is wearing them. This makes them an ideal option for children who are self-conscious about their appearance.
Comfortable
The aligners are made of a smooth plastic material, making them more comfortable and less likely to cause discomfort or irritation in the mouth.
No Food Restrictions
With Invisalign for kids, there are no food restrictions or worries about braces being damaged by sticky or hard foods.
Better Oral Hygiene
Removable aligners make it easier for your child to brush and floss their teeth, which helps maintain good oral hygiene during treatment.
Improved Self-Confidence
With straighter teeth, your child can have greater self-confidence, knowing that they look their best.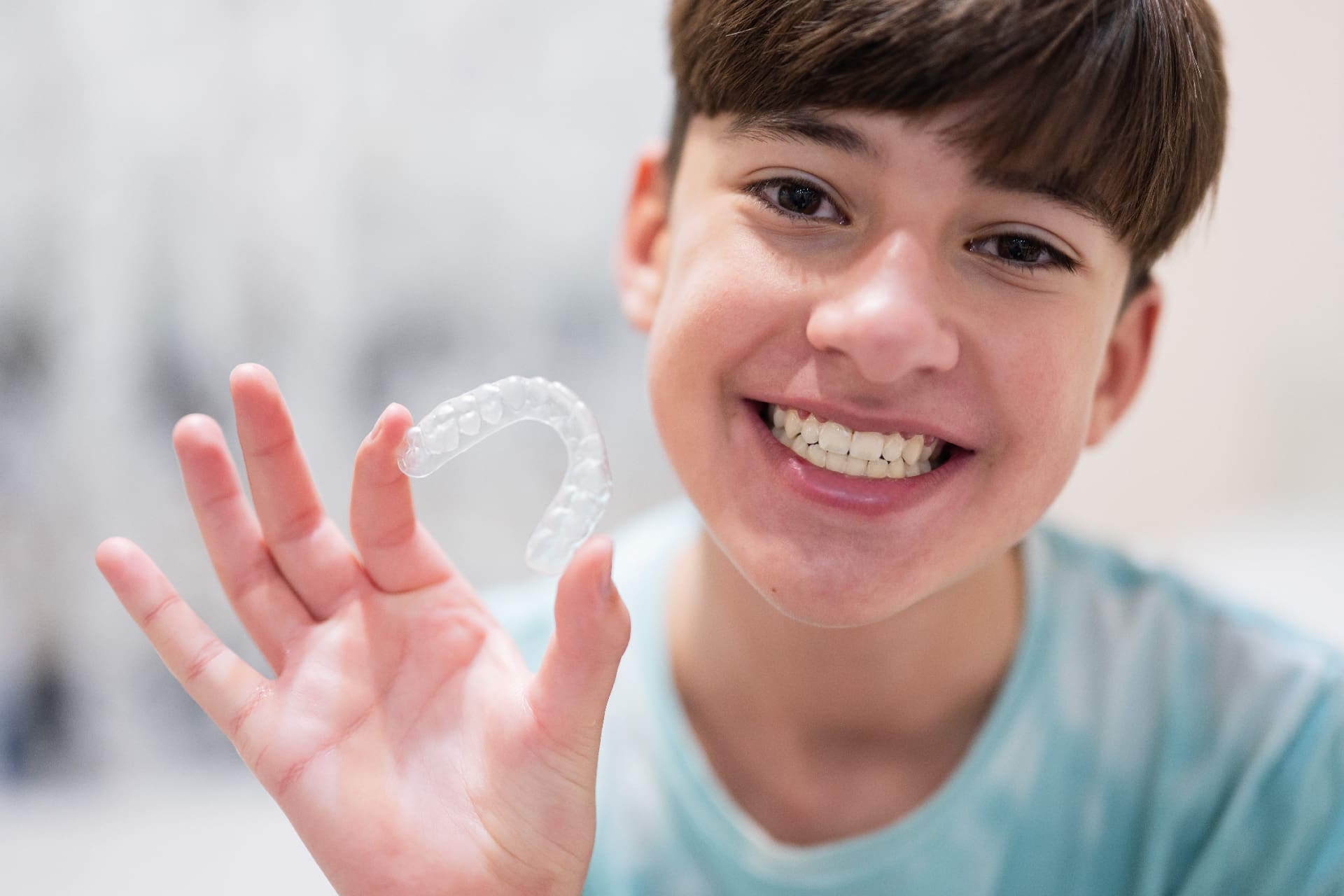 Invisalign For Teens
Why Teens Love Invisalign
We understand that teenagers want to look and feel their best, which is why we offer Invisalign for teens in Tallahassee, FL. Invisalign for teens is a discreet, comfortable method for straightening teeth without using traditional metal braces. Furthermore, because Invisalign aligners are essentially invisible, teens will not feel self-conscious while wearing them.
Invisalign aligners are not only more inconspicuous than metal braces, but they are also removable, allowing teens to eat and drink anything they want. This level of simplicity also means that teens won't have to worry about food getting caught in their aligners or having problems brushing and flossing their teeth.
How The Invisalign System Works With Teens
Invisalign straightens your teeth gradually over time by using a series of removable, personalized aligners. Your teeth will shift into place with each new pair of aligners, resulting in a straighter and healthier smile. The aligners are comprised of a smooth, pleasant material that will not cause discomfort for your gums or cheeks. Furthermore, no one will notice you are wearing them because they are clear!
The procedure starts with a thorough consultation with one of our skilled orthodontists, Drs. Michael or Taylor Vracar. They will examine your mouth and take thorough impressions of your teeth to build 3D photographs of your teeth.
This information assists them in developing a treatment strategy based on your specific needs and intended outcomes. Following that, custom-made aligners are manufactured for your unique smile.
When the aligners arrive, you will wear each set for two weeks before moving on to the next set in the series. For best efficiency, you should wear your trays at least 20-22 hours per day, which means you can take them out for eating or brushing your teeth but should otherwise maintain them in place as much as possible throughout the course of treatment (typically 12-18 months). It is critical to attend regular checkups throughout this time, so Drs. Michael and Taylor Vracar can monitor progress and make any required modifications.
Invisalign Features
Invisalign for teens also includes features such as progress trackers, wear indicators (blue lines on the trays that wear away with usage), and compliance reminders that help ensure successful treatment. These features are designed to make it easier for teens to stay on track with their aligner treatments while still enjoying the freedom of removable aligners.
At Redemption Orthodontics, we understand how important it is for teenagers to feel their best, which is why we offer Invisalign for teens in Tallahassee, FL, and are the only Diamond Providers of Invisalign in Tallahassee. Our experienced orthodontists, Drs. Michael and Taylor Vracar and the team are dedicated to providing the highest quality care tailored to each individual's needs.
Is My Teen A Candidate For Invisalign?
Invisalign can be used to correct a wide variety of orthodontic issues, including:
Crowding
Spacing
Open Bites
Overbites, underbites, and crossbites
If you're unsure if your teen is a candidate for Invisalign, our top-rated team at Redemption Orthodontics can help. We offer free consultations to discuss treatment options and determine if Invisalign in Tallahassee, FL is the best option for your teen's individual needs.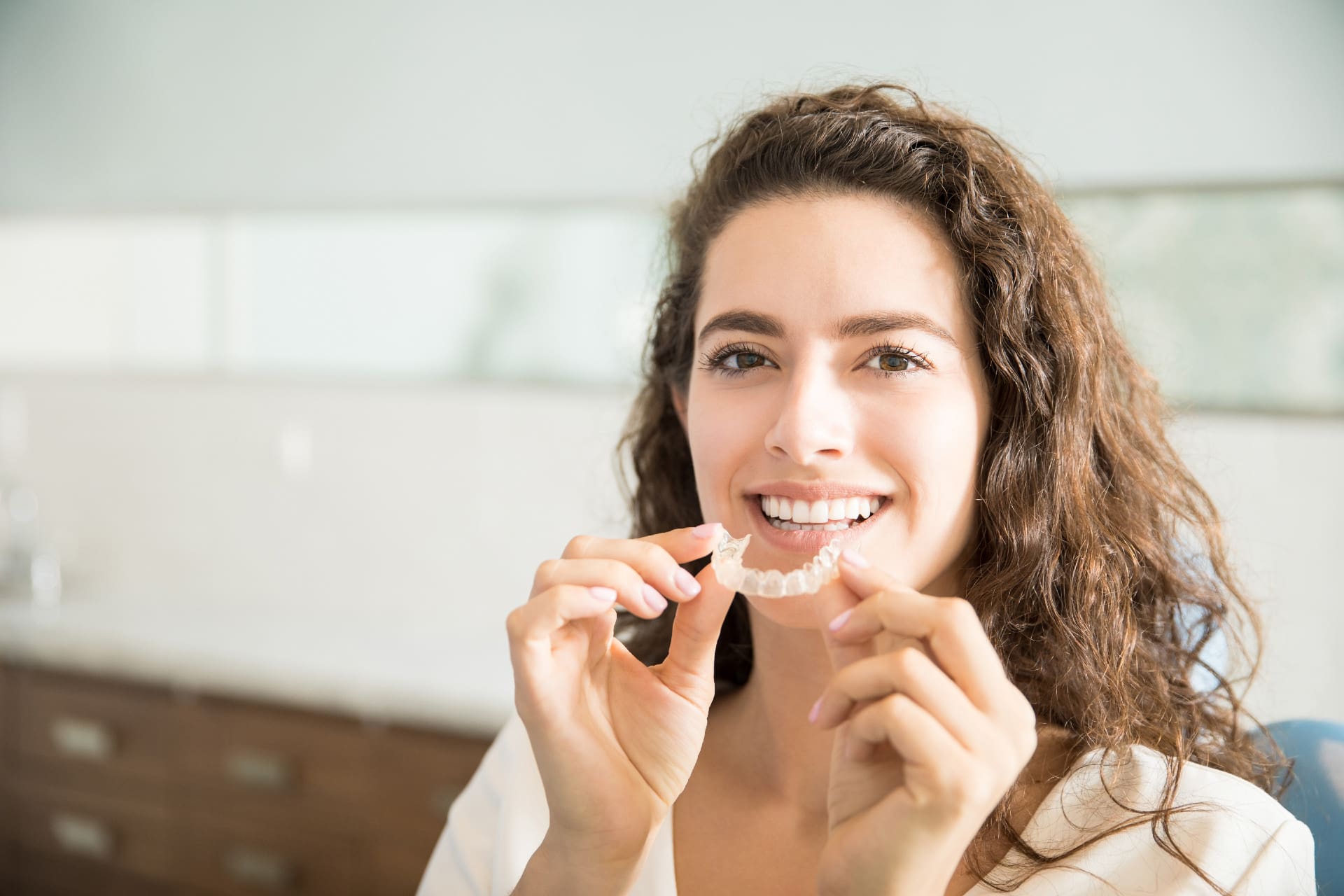 Invisalign For Adults
Benefits Of Getting Invisalign As An Adult
Adults looking for an alternative to traditional braces may consider Invisalign in Tallahassee, FL. This revolutionary orthodontic treatment is a great option for adults because it provides many benefits.
Discreet
One of the main advantages of Invisalign is its discretion. The clear aligners are practically invisible, so you can smile confidently knowing that your teeth alignment treatment is nearly undetectable to others.
Comfort
Invisalign uses flexible plastic aligners instead of metal braces to move your teeth into place, which means fewer irritations and less discomfort than traditional brackets and wires.
Ease of Care
Invisalign aligners can be removed when you need to brush or floss your teeth. This means maintaining good oral hygiene and keeping your teeth healthy throughout the treatment process.
Faster Treatment Time
Another advantage of Invisalign is that it requires less time to complete treatment than traditional braces. Adult patients can usually expect to finish their treatment process in about 6-12 months, depending on the case's complexity.
Invisalign may be the ideal answer for you if you are an adult seeking a discreet and pleasant alternative to traditional braces. At Redemption Orthodontics, adults who want a straighter smile can benefit from Invisalign in Tallahassee, FL. Contact us right away to request your free consultation and see if Invisalign is right for you.
Common Orthodontic Issues
We utilize Invisalign at Redemption Orthodontics to treat several orthodontic concerns. Here are some typical ailments that this groundbreaking treatment can help with:
Overcrowding or gaps between the teeth
Crossbite
Underbite and overbites
Open bite
With Invisalign, adults can feel confident that they are getting the best orthodontic treatment available. Contact us today to request your free consultation for Invisalign in Tallahassee, FL.
How Does Orthodontic Treatment For Adults Help?
Orthodontic treatment can help many adults regain their confidence. Not only does it improve the person's overall health and well-being, but properly aligned teeth and jaws make eating easier, decreasing any potential jaw or bite disorders. Orthodontic treatment can significantly reduce misaligned or impacted teeth that cause pain or discomfort.
Furthermore, having straight teeth enhances oral hygiene by making brushing and flossing easier, which is vital for keeping the mouth healthy and free of cavities. Ultimately, orthodontic treatment for adults enhances both the individual's physical health and self-esteem.
How Will You Start My Treatment Plan?
When starting your treatment plan with Redemption Orthodontics, we will begin with an initial consultation appointment with one of our skilled orthodontists, Drs. Michael or Taylor Vracar. During your appointment, they will take x-rays and scans of your mouth, make detailed notes on the desired outcomes, and create a unique treatment plan tailored to your individual needs.
Depending on the complexity of your case, you will receive a number of custom-made Invisalign aligners (this number depends on how many are needed to reach your desired results). Each set is worn for approximately two weeks before being replaced by the next in the series, gradually shifting the teeth into their proper position. Dr. Vracar will monitor your progress throughout the process and make any necessary adjustments to ensure that you obtain the best potential outcomes from your Invisalign treatment.